It's Friday again! I'm loving
this
link-up. It keeps me accountable to the blog for at least one day a week:)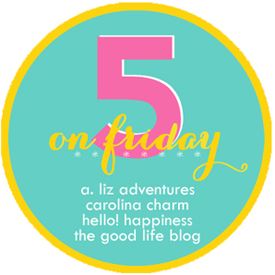 ONE-
Landon had me order him a few work shirts from Jcrew this week, so I slipped
this
little tee in the cart. Loving the pineapples lately! And extra 40% off sale right now so it was a steal!
TWO-
My mom picked me up some little Popsicle molds and I've been dying to try them. I finally did this week and made some coconut, pineapple, banana pops!! They are delish. Like a yummy, coconut-ty ice cream.
I didn't have a recipe, just used everything I already had on hand (for piña coladas ;)) and added a banana. I did--- 1/2 a can of coconut milk, 1/2 a can of coconut cream, 1/2 of a banana, and 1 cup+ of fresh pineapple. Just blend and freeze! Linley loved!
THREE-
I love a statement necklace and I found one of the cute fringe ones
here
this week. It's the best price I've seen for them so I ordered the pink!
FOUR-
My SIL is due LITERALLY any minute now with baby #3. They aren't finding out what baby is, but I HAD to get this tee from target. Just in case. No boys in this fam yet, but how cute is it?! And love that it says little brother. Perfect perfect.
FIVE-
And I couldn't do a post without my baby love. She finally cut one of her top teeth Wednesday! Still waiting on one more, but we have 4 now!!! Love her.