I'm linking up again with
Darci
for Five on Friday!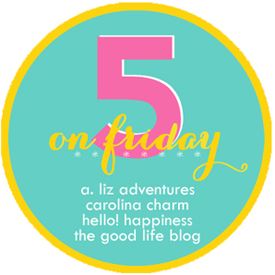 ONE-
It's a 10 leave in conditioner
. It's amaze. I first tried my sister's, but had to get my own because I liked it so much. Makes your hair crazy soft and shiny after using.
TWO-
I'm a sucker for a polka dot, so I'm thinking I have to make
this tablecloth
. Maybe for LiLi's big day??;)
THREE-
Landon picked up 2 wingback chairs I scored for $20 off Craigslist recently and I have been wanting to get my hands on them, but just haven't had time. I really want to have them recovered, but don't want to spend big bucks on them right now since I don't
need
them so I decided to try out
this upholstery spray
from Hobby Lobby.
I have only finished one, but I went with a charcoal gray and am loving how it turned out! The fabric feels the same, not stiff or crunchy like I was expecting, and nothing rubs off on clothes! It's just a temporary fix, but I'm so pleased with the results! And can't beat $9.99 per can plus 40% off at HL!
Bad garage lighting, but the chair before I haven't finished yet and then the one I've painted.
Before
After- without the cushion.
FOUR-
I'm dying over the little fall outfits hitting the
Gap
website lately. Ready for the cooler temps to come to Houston!
FIVE-
I bought a little lime tree yesterday to add to our garden! I had been getting a little jealous over our neighbors having fruit trees and decided we just had to have one.